McCainAttacks.blogspot.com
VISUAL PROOF OF THREATS ON MY FAMILY FROM McCain After Airline Profiling Attack Upon us SEEN Directly BELOW*
McCainAttacks.blogspot.com: Northwest Airlines profiling attack Leads to Abduction/Murder Attempts Threats From FBI CC'd to McCain and attempts upon our lives in attempt to silence our online voice and protest of the racial profiling attack my mother and I sustained aboard McCain affiliated Northwest Airlines.
NOW VISUAL PROOF THREATS FROM FBI CC'D TO SENATOR JOHN MCCAIN hreat from FBI below:
FBI agent Steven Davis (http://stopzion.com, http://www.mormon.citymax.com ,
http://www.bridgingtruth.com )first threatened me by phone against his "good friendship with John McCain" in the context of threats upon my abduction, on or about Feb14/08, while I was forced into remote retreat and undisclosed location, on account of surreptitious unlawful attempts upon my kidnapping by criminally charged Winnipeg Police acting on behalf of hate based U.S. factions including FBI CIA and Minneapolis Police.



He commented "There are 75 FBI agents currently monitoring your website- we are eagerly working with the Canadian Government to see about your rendition to the United States. You should know- I have a very good friendship with John McCain…" He would reference this threat once further by telephone on or about March1/08 only days prior to our receipt of a threatening email stating the same as follows:(Also as seen on publicanPartyofOntario.ca:http://www.republicanpartyofontario.ca/articles.php?command=show&ID=13739
McCain's ties to Northwest Airlines Revealed:
Northwest Airlines affiliation with McCain as top two
clientele of McCain executive legal council and official carrier of McCain campaign:
http://barack-omaba-onmccain-northwest-ties.blogspot.com/#McCain
http://i263.photobucket.com/albums/ii127/dalton124124/McCain_NWA_CROPPED-1.jpg
http://tpmcafe.talkingpointsmemo.com/talk/2008/08/northwest-airlines-supporting.php
Attacked aboard Northwest Airlines:
http://mothereyewitnessnwaattack.blogspot.com/

Northwest Airlines has been sued by the ACLU for systemic pernicious profiling practices that are baseless in reason or rationale.
McCain attacks Bloggers: "bloggers not safe"McCain, Northwest Airlines' corporate affiliate is notorious for having drafted draconian legislation to target bloggers expressing political opinion of any sort positive, or otherwise:
http://www.renewamerica.us/columns/huston/060304
"Northwest Airlines Sends Goon Squads To Silence cyber critics", so reads the caption on Northworst Air.org, a website illustrating the inequities within Northwest Air, stating definitively, "The potential for abuse seems too high, and the idea sounds ominous to those who cherish free speech without risk of punishment. " http://www.northworstair.org/NWA-eWatch/- in our case attempted abduction and murder.
E-Bay Tracker has assisted Northwest Airlines in finding my online materials and stalking our family online to the advent of abduction and murder: (offending stewardess Sherrie Caudill had placed some nefarious comments on my Youtube account Northwest Airlines Profiling Attack part 1 and Part 2 ("Don't believe him!" Etc.)
We received the following email below from Northwest approximately 9 months prior to the initial kidnapping attempt upon our persons:
Date:
Fri 19 Jan 2007 09:07:45 PM EST
From:
Alexwi54115@aol.com

[ Add to Address Book | Block Address | Report as Spam ]

To:
a_j99@myway.com
Subject: hi Aaron

my name is Alex Plascencia and I'm a flight attendant for NWA , the flight attendants based in Detroit have an employee blog where your youtube video was recently posted and that's how I came to know about your story, I watched your video and read your mom's description of the events. you both sound very credible and my heart goes to you if events really happened as you described.

my question to you and this is where I'm a little confused about how the whole thing started, when you got up to used the restroom and left your bag in your seat was the aircraft already taxing down, in other words was the aircraft moving when you were walking down the aisle ? please e mail me back so I can understand a little more about how the events unfolded

thank you, wish you and your mom well

Alex Plascencia "
(little did we know that attempts upon our lives via Northwest Airlines McCain corporate political alliances towards election time coming to roost)
This initial contact was a caveat to nefarious attempts upon our lives and targeting to come as per NorthworstAir.org – "Northwest sends goon squads to silence cyber critics")
REAGAN-FBI STEVEN DAVIS TIES, FBI HATE BASED EUGENICS ASSASSINATIONS-EXPOSED

"Reagan was a mean, crazy old man with a withering contempt for most of the world's people, beginning with African Americans and extending most strongly to black Africans...
the Republican presidential candidates praised the name and heritage of Ronald Reagan 40 times during the televised Show and Tell at the Reagan Presidential Library. That none of them mentioned Reagan's legacy of white supremacy and support for apartheid is a little like invoking Jefferson Davis and not mentioning treason or slavery. Actually, a lot like it.

Ronald Reagan was a white supremacist to his very core, and left enough traces over his lengthy political career so that it's evident for anyone who cares to look-which apparently few do." http://www.thirdworldtraveler.com/Ronald_Reagan/Reagan_WhiteAsSnow.html
RAEGAN RACISM EUGENICS
Reagan Appoints Samuel Pierce to Cabinet After Martin Luther King Assassination: http://www.youtube.com/watch?v=_soDLWCDphM#t=02m31s
Despite Pearson's long history of association with neo-Nazi groups, he was appointed in 1977 to the original board of editors of Policy Review, a journal published by the respected Heritage Foundation, a conservative political research organization in Washington, D.C. Perhaps the clearest indication of Pearson's acceptance into the mainstream is the letter of support he received from then President Ronald Reagan, thanking Pearson for his "substantial contribution to promotion and upholding those ideals and principles that we value at home and abroad." http://www.sntp.net/eugenics/genetics_1.htm
"Of course, Reagan exploited racism.": And Reagan meant it. He was opposed to the landmark Civil Rights Act of 1964, which was the same year that Goodman, Schwerner and Chaney were slaughtered. As president, he actually tried to weaken the Voting Rights Act of 1965. He opposed a national holiday for the Rev. Dr. Martin Luther King Jr. He tried to get rid of the federal ban on tax exemptions for private schools that practiced racial discrimination. And in 1988, he vetoed a bill to expand the reach of federal civil rights legislation.
Congress overrode the veto.
Reagan also vetoed the imposition of sanctions on the apartheid regime in South Africa. Congress overrode that veto, too.
Throughout his career, Reagan was wrong, insensitive and mean-spirited on civil rights and other issues important to black people. There is no way for the scribes of today to clean up that dismal record.
http://iowaliberal.com/?p=743
Persecution from FBI FBI Agent Marc Rensch, the same FBI agent who interrogated/ threatened me in the holding cell while I still sat bleeding from the attack, would later stalk my mother and I at home, illegally within Canada, on or about Jan 29/06, shortly after we arrived back at home from the profiling assault within the U.S. aboard Northwest. The motivations for his actions given the enumerate attempts upon our abduction and murder have now become clear. As I peered through my window after noticing a car idling outside for some time we visually identified each other and he nodded insideously, then slowly drove off- he had confirmed my place of residence in anticipation of attempts upon our lives.
The inspector general's report documents 135 unapproved FBI crossings and says there is no sign the crossings will stop.


Canadian officials say they have made no protest to the U.S. government about FBI agents operating without permission on Canadian soil. http://www.cbc.ca/canada/story/2006/10/05/fbi-border.html

FBI Agent Marc Rensch would later also sent the following *cyber threats (a prelude to FBI agent Steven Davis' Cyber threats CC'd to Mcain) shortly after Alex Palencia's communication:


Breaches in protocol/ racial profiling by Northwest Airlines
http://northwest-delta-breaches-protocol.blogspot.com/
FBI's Ties to Northwest Airlines concurrent with those of McCain Basis of Further Affliction Upon James Family:
As further documentary evidence on the basis of the afflictions upon the James family, ties between FBI and Northwest have now also become transparent:
The nation's largest airlines, including American, United and Northwest, turned over millions of passenger records to the Federal Bureau of Investigation, airline and law enforcement officials acknowledged Friday. A senior official with the F.B.I. said the airlines cooperated willingly. Some, like Northwest, provided as much as a year's worth of passenger records, which typically include names, addresses, travel destinations and credit card numbers. ''There was no reluctance on the part of anybody,'' added the senior F.B.I. official, who said that bureau rules required him to speak anonymously. http://query.nytimes.com/gst/fullpage.html?sec=travel&res=9B06E3D9153DF932A35756C0A9629C8B63
FBI's and CFR's Hate Based Criminal Associations -FBI COINTEL PRO

John D. Rockefeller created the family-run Rockefeller Foundation,in parallel with the birth of the British-inspired Federal Reserve, and the Federal Bureau of Investigation. The Rockefeller Foundation poured money into the occupied German republic for a medical specialty known as "psychiatric genetics." This field applied to psychiatry the concepts of eugenics (otherwise known as race purification, race hygiene, or race betterment) developed in London's Galton Laboratory and its offshoot Eugenics Societies in England and America. http://thewebfairy.com/911/cia-drugs/Msg01702.html
"After 1900, the Harrimans--the family that gave the Prescott Bush family its start--along with the Rockefellers funded more than $11 million to create a eugenics research laboratory at Cold Spring Harbor, New York, as well as Eugenics studies at Harvard, Columbia, and Cornell. The first International Congress of Eugenics was convened in London in 1912
German general) William Draper served as head of
(Prescott)Bush's campaign funding. Draper's grandfather had founded the Pioneer Fund to promote eugenics. http://www.spiritone.com/~gdy52150/timeline.html
In turn, Prescott Bush was Hitler's banker in America and was referred to by the New York Tribune as Hitler's angel.
http://japan.indymedia.org/newswire/display/607/index.php
FBI exposed as corrupt Eugenics/KKK based entity in video:http://www.youtube.com/watch?v=_soDLWCDphM
on website:http://www.defraudingamerica.com/FBI_murderous_culture.html
Covert Tribunal CIA FBI NSA on Jury pool and breaches in Law at secret trial
http://mccain-attacks-kangaroo-court.blogspot.com/
FBI's targeting of our persons has been profound- at the covert tribunal denoted above,FBI were present on the Jury Pool along with members and or affiliates of NSA, military, *Northwest Airlines employees, the very airline on which we were attacked, prosecuting attorneys and family of murder victims.

Moreover presiding was *criminally charged X-U.S. Marine Judge David S. Doty (the charges against whom can be seen at http://clr.org/fed-judges.html , who would threaten to send U.S. marshals into Canada (an illegal act) to GET me if I did not return for 'sentencing' following a fraudulent finding of 'misdemeanor' amidst the illegal kangaroo court setting litterally administered by homeland security in capacity the covert agent laden Jury Pool and Judge!
Judge Doty's threat was a criminal violation and felony act within itself.
International law clearly states that failing a felony level charge oustanding against an individual, extradition is ILLEGAL. There are no such charges against me and their fruadulent misdemeanor finding was overt attempt at cover up of the race hate based attack aboard Northwest- an attack that had been witnessed by my very own mother (whom Minneapolis Airport Police attempted to confine to the aircraft and force to travel back to Canada without me when they realized they had been caught in the act of race based persecution and assault with family as witness!)
(Duly note with now 14 attempts on my abduction Judge Doty has clearly acted on said threats constituting felony level crimes to *add to the charges already against him, and violation of international law
Judge Doty's Illegal Threats on Life at Trial:
http://judgedotythreatening.blogspot.com/
Judge Doty's History of Judicial Misconduct

http://dotyhismisconduct15.blogspot.com/
FBI Agent Marc Rensch Resurfaces at 'trial'-

there sat agent Rensch grinning smugly: Duly note:FBI agent Marc Rensch was called to stand by the prosecution in the following manner-"Would that broadly *grinning handsome man sitting in the back row please come up to take the stand"-FBI agent Marc Rensch- the same agent who had interrogated me while at sat bleeding after the airline profiling attack, attempting to link me to extremist groups while citing foreign names I had never heard of- the same agent who stalked us outside our home days after our arrival back in Canada on or about Jan 29/06-the same agent who administered to the covert FBI intimidation tactics and via terrorization of family friends and associates, sabotaged legal mail, phone line tapping threats left on answering machines and other ploys and carrying about of odd covert activity which we have logged, amidst the sending of 5 plea bargains prior to trial in attempt to terrorize and coerse us into false confession to guilt- the same agent who would later send us cyber threats as denoted above and ultimately work with Canadian 'law enforcement' in capacity Winnipeg Police here within Canada in attempt at my abduction and murder years later- just as criminally charged judge David S. Doty had promised amidst said criminal threats upon my mother and I amidst trial- all without warrant or charges and done surreptitiosly in violation of international law.

FBI involvement in Organized Crime http://www.defraudingamerica.com/FBI_murderous_culture.html

FBI involvement in Cover Up of Judicial Misconduct
Judicial Corruption in Minneapolis targeting victims of police brutality minorities and the poor: http://www.charityadvantage.com/CUAPB/120906Newsletter.asp
False Statements from police/ our analysis of said statements
http://policeliesuncovered07.blogspot.com/
False Statement officer Alvin Cooper:http://i263.photobucket.com/albums/ii127/dalton124124/Winnipeg%20Police%20Exposed/COOPERSSELFCONTRADICTION_01.jpg
Winnipeg Police attempt our abduction to United States to silence our online voice and protest of the Northwest Airlines profiling attack upon my mother and I: 1st kidnapping attempt Oct 27/07 http://oct27abductionwpgpolice.blogspot.com/
Same Winnipeg police involved are criminally charged:
http://www.helpaaronjames.com/images/aaron/WinnipegPoliceExposed/four-winnipeg-police-officers-facing-charges-job-status-under-review.html
http://www.cbc.ca/canada/manitoba/story/2008/01/15/police-charged.html
Photos and names of the officers involved in the attempts upon our lives: http://i263.photobucket.com/albums/ii127/dalton124124/Winnipeg%20Police%20Exposed/POLICE_EXPOSED_BANNER12.jpg
Our affidavits regarding illegal Winnipeg Police activity further towards our abduction and murder on behalf of McCain and U.S. affiliates FBI CIA etc.
http://www.scribd.com/doc/13616852/AffidavitWinnipeg-Police-Abduction-Attempts-AJames-Oct-Abduction
http://www.scribd.com/doc/13616853/AffidavitWinnipeg-Police-Abduction-Attempts-Linda-James-Oct-Abduction
Threats upon my mother and I in Winnipeg Police (Canada) notes regarding FBI U.S. Marshals and ABDUCTION!!
http://www.scribd.com/doc/12393698/Wpg-Police-Notes-Threats-McCains-Murderous-Attempts-Exposed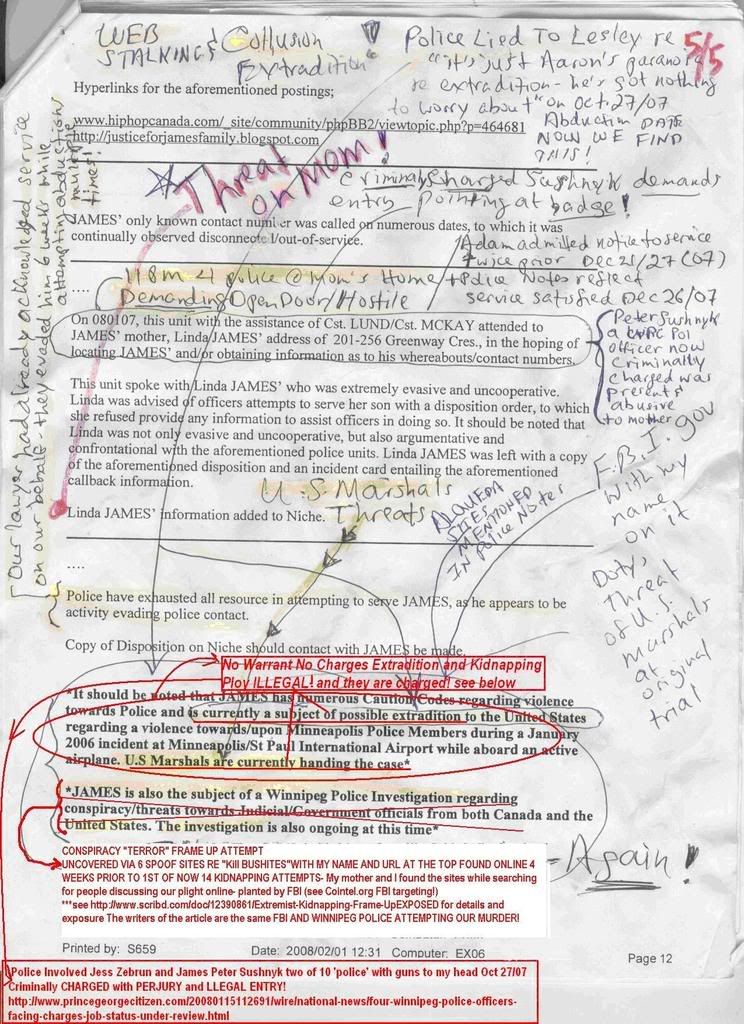 See above: false claims: "Kill Bushite" spoof Sites put online by FBI and Winnipeg Police In Attempt To Frame With Presidential Assassination Ploy To Enable False Grounds For Extradition:

FBI put out a radical Jihad Al-Qaida spoof websites discussing 'Killing Bushites" with my name and url of my previous website at the top- and made several copies which I found only 3 weeks prior to the initial abduction attempt upon my person which I found (websites displayed here with disclaimer http://framedradicalalqaedajihadsite.blogspot.com/ and sent to Roche Tasse International Civil Liberties Monitoring Group head Sept 27/08 announcing that this placed us in serious danger.In this way their attempt at framing thusly has failed in that we discovered the material online prior to their attempts at using it to insideous surreptitious advantage.

That these websites were created by FBI and Winnipeg Police for the purpose of abduction is obvious and apparent given our analysis of these websites in the following pdf summary: http://www.scribd.com/doc/12390861/Extremist-Kidnapping-Frame-UpEXPOSED
74 page documents online with my name and url at the top of each
p.72 Death of a president
p.46 Mirror of allusion to Wpg police HOME RAID!!& the comment, "Winnipeg police exploitation unit"- clearly Winnipeg Police were writing this in anticipation of the raid of my home and their attempted abduction of my person.
P.27 Direct references to my name "Aaron James is …falsely imprisoned in …isn't that 'kinda like' unethical?"
Pp 30,31 McCain referenced explicitly "McCain is insane"
PP 49,55 Crown V/S Johnny
PP 60,61 Court Prosecution allusions
3 Weeks later on Oct 27/07 police attempted my abduction, and as the above url exposes, Winnipeg Police and FBI were complicit in the creation of said online material for the self serving agenda of leverage for kidnapping under false pretense of offense committed.
– Winnipeg Police notes subpoenaed by our attorney Reveal hate based FBI /Winnipeg Police Cyber Stalking Abduction Ploy : Winnipeg Police notes (http://www.scribd.com/doc/12393698/Wpg-Police-Notes-Threats-McCains-Murderous-Attempts-Exposed ) revealed not only threats of abduction amidst references to U.S. Marshals and FBI, but also the fact that both FBI and Winnipeg Police have been 'cyber stalking' our family and our online material- having ALL OF OUR WEBSITES POSTED IN THEIR POLICE NOTES!
– This is consistent with FBI agent Steven Davis' threat upon my life on or about Feb 14/08 prior to his threatening email CC'd to McCain, in which during a telephone conversation, he stated that "75 FBI and U.S. marshals are monitoring your website and online material, and eagerly working with the Canadian Government to see about your rendition…" as denoted in detail further above.
Our Attorney Warns Winnipeg Police against attempting our abduction pending charges to come upon them:
http://www.scribd.com/doc/12390882/Adam-Warns-Police-Against-Kidnapping
Canadian government leaves us bereft to torture:
Liberal Leader Stephan Dion exposed negligent in our plight by other activists exposing fact that we had spoken to him face to face* Oct 21/07 6 days prior to the initial abduction attempt Oct 27/07 and he had promised assistance which he has now failed to do (overt collusion with U.S. re our abduction to murder/ torture) http://www.scribd.com/doc/12391672/-Liberal-Leader-Dion-Exposed-in-NegligenceOur-Case-CLICK-FULL-SCREEN-TO-VIEW-CLEARLY
Justice Department's 2003 Memo on Torture and Interrogation of "Terror Suspects" Written by John Yoo http://www.scribd.com/doc/2425855/Justice-Departments-2003-Memo-on-Torture-and-Interrogation-of-Terror-Suspects-Written-by-John-Yoo#document_metadata
We are not the first covert sacrifices made by Canadian government to the United States for purposes of torture:
Ottawa sacrificed Arar (TO TORTURE!) to save face with U.S., Syria" The Globe and Mail; August 10, 2007 at 3:23 AM EDT Article:
WASHINGTON : The federal government fought like blazes to keep the fact that the CIA sent Maher Arar to Syria from you - they fought so hard that it took a court order for you to hear it - because Ottawa doesn't want to lose face with the Americans, or the Syrians for that matter. To preserve their trust, our government was prepared to sacrifice the trust of its own citizens. What are we to make of such a thing? The blacked-out lines of Mr. Justice Dennis O'Connor's report that are now available for all to see offer little that should surprise. Of course the Central Intelligence Agency was at the heart of the decision to deport Mr. Arar to Syria. That's what the CIA does. We already knew - because the inquiry report describes it in grim detail - that Canadian intelligence and justice officials were feeding the Americans wrong information, though we now know that some of that wrong information came from Syria,...
MORE of ARTICLE (click)
or go to:
http://www.theglobeandmail.com/servlet/story/RTGAM.20070810.wibbitsonarar10/BNStory/Front
FBI.Gov and U.S. Department of 'Justice' Major Crimes character assassination of our persons giving false account of attack upon my mother and I aboard Northwest Airlines:(search for name 'aaron james' and you will find their now-sanitized false account of the attack upon our persons in which they attempt to divert blame via false professed 'assault on police officer' claims despite the fact that no such assault occured-save the one they committed upon my person sending me to hospital.

http://web.archive.org/web/20060824224230/http://www.usdoj.gov/usao/mn/press/major.htm
FBI Background of Winnipeg Police Chief Keith McCaskill Further Motivation for Winnipeg Policein Canada to be acting on Behalf of FBI and covert Factions in U.S.
Our Winnipeg Police chief Keith McCaskill, is an FBI agent, and FBI "asset" working on behalf of U.S. factions including FBI CIA NSA and U.S. marshals in order to effect my abduction :
Winnipeg Police Chief "Keith McCaskill is a graduate of the Federal Bureau of Investigation (FBI) National Academy…was elected President of the FBI National Academy(click) Associates North West Chapter representing law enforcement officers from South Dakota, North Dakota, Minnesota (*where my mother and I were attacked aboard Northwest Air), and Manitoba (home residence/and site of Winnipeg Police' ongoing attempts unto our abduction. http://oct27abductionwpgpolice.blogspot.com/ as per detail in his online biography http://winnipeg.ca/police/AboutTheService/chiefmessage.stm

McCaskill appears deeply complicit, implicated by the words of his own officers at the time of the initial abduction attempt Oct 27/07: Wpg Police : "Minneapolis and U.S. say they have unfinished business with you…our boss says maybe we should lock you up here long enough for them to come and get you!" and has refused to meet with City Councilor Harvey Smith in order to discuss the nefarious actions of Winnipeg Police.
As an independent article from CanadianGrassroots.ca correctly infers,
" local police are motivated via the position of the police chief as a graduate of the FBI And the local courts are now assisting in the police cover up to facilitate the James's ultimate kidnapping to torture and possible murder." http://www.canadiangrassroots.ca/articles.inc.php?command=show&ID=13697

The Winnipeg police (http://winnipegpoliceexposed.blogspot.com ), claim no affiliation with Minneapolis or intent of harm or legal involvement with our family and this, despite Police abduction attempts http://oct27abductionwpgpolice.blogspot.com/ by criminally charged police http://oct27abductionwpgpolice.blogspot.com/ and threats unto James pertaining to abduction U.S. martials and FBI referenced in the police notes! http://www.scribd.com/doc/12393698/Wpg-Police-Notes-Threats-McCains-Murderous-Attempts-Exposed
as subpoenaed by our attorney.
CloakandDagger.de States They Are Attacked By Government And Shut Down After Broadcast Of Our Plight:Cloak and Dagger was shut down July 3/08, by their attest, on account of having upset the ruling elite in giving discourse of our ordeal and the wrongful illegal afflictions set upon us by FBI, on their broadcast. At 5min:34s host Lenny Bloom states in this mp3 archive, http://media.podhoster.com/thatradio/shock_talk_with_lenny_bloom_2008-07j-02_-_aaron_james_story.mp3 ,"The cloak and dagger is down folks-the cloak got attacked....they didnt like us talking about the FBI's attempt to abduct an innocent man from Winnipeg...we'll be having Aaron James come on later after the Berry Chamish section..."
Government came back to attempt my murder on July 5/08 and on now 14 occasions total:Youtube link http://www.youtube.com/watch?v=_sfObgs3GGg#t=04m06s
BUSH AND PM PAUL MARTIN CAUSE OF ORIGINAL SHUT DOWN OF CLOAK AND DAGGER AS ATTEST TO SEVERITY OF OUR ORDEAL:According to research and reputable resource, CloakandDagger was downed by government agencies only once prior in its history- when Bush and then P.M. Paul Martin met in the U.S. to discuss concerns that the high broadcasting capacity of their station was reaching U.S. audiences by radio, who were calling into U.S. radio stations and demanding to know why certain censored material concerning the actions of government were not being broadcast. The descision to cut CloakandDagger from MOJO radio was made and at a *loss of funds, Coast to Coast was put up in its place.
"[their program had to be shifted from the MOJO Radio Toronto show to the Internet due to pressure from Bush associates; It was former Vice-President Al Gore's office that advised The Cloak that President Bush personally told Prime Minister Paul Martin at their meeting in Monterry, Mexico that "there would be no oil concessions until that loudmouth in Toronto is off the air." told Martin to get The Cloak and Dagger show off the air"]
http://www.mail-archive.com/ctrl@listserv.aol.com/msg114467.html
Sample of 14 Kidnapping Attempts Recorded Online:

Oct 27/07 Kidnapping Attempt: http://oct27abductionwpgpolice.blogspot.com/

Jan7/08 Kidnapping Attempt: http://corruptionwpgpolice.blogspot.com/

July 5/08 Kidnapping attempt http://july6kidnappingattempt.blogspot.com/#July05attack

Audio July 5/08 attempt:
http://www.gabcast.com/casts/3452/episodes/1215289263.mp3

Oct.10/08 Kidnapping Attempt: http://july6kidnappingattempt.blogspot.com/#Oct10attempt
Government- Who Are Complicit- Ignore Appeals From Roch Tasse International Civil Liberties Monitoring Group and From Ourselves

*Roche Tasse Civil Liberties Monitoring Group Appeals to Government on Our Behalf -ACLU and Public Interest Law Centre Refuse Assistance
http://rochtasse-iclmgbehindus.blogspot.com/
*Public Interest Law Centre Refuses:
http://rochtasse-iclmgbehindus.blogspot.com/#PublicInterestLawCentre-Refuses
*ACLU Refuses/ACLU Fraudulent
http://rochtasse-iclmgbehindus.blogspot.com/#Fruad-of-ACLU

*Canadian Consulate Ignores Our Plight
http://emailcanadianconsulate.blogspot.com/
*Stockwell Day No Help, Supports Vague Terror List...(NOW SEE LINK BELOW!)
http://brichert.wordpress.com/2006/08/21/quick-update-on-terror-list/
*TERROR WATCH LIST FLAWED/ DANGEROUS SAYS JUSTICE DEPARTMENT
http://terrorlistflawed.blogspot.com/
Our Complaint To Law Enforcement Review Agency re Abduction Attempts: http://policecollusionusacanada07.blogspot.com/
Law Enforcement Review Agency Ingnores Our Complaint:
http://www.scribd.com/doc/12390888/LERA-Refusal
FBI and CIA have been attempting a simultaneous effort of sanitizing our online material and my abduction/ murder in order to erase ALL TRACE of their afflictions upon us and prevent us from speaking out against their actions any further:
Our previous websitewww.aaronjamesstory.com was attacked and DOWNED BY GOVERNMENT TO FACILITATE KIDNAPPING (google our website for sublinks still intact under other accounts)after I discussed FBI agent Steven Davis and his threats upon our family via his "close friendship with John McCain"
KBOO RADIO REPORTS ON MY WEBSITE BEING TARGETED BY GOVERNMENT AND GOING DOWN AND KIDNAPPING CRISIS SITUATION:
http://kboo.fm/node/9785
"As many KBOO listeners know, we have followed Aaron Jame's struggle to live a "quiet, normal life"without the interference of government agencies – both Canadian and American.James is the Winnipeg resident who was attacked by TSA agents while on board a Northwest Airlines plane, on the runway awaiting take-off....He put up an extensive website that tracked stories related to his own. For his trouble, he has been relentless persecuted by governmental forces and ignored by the mainstream media as well as the Left.Human rights organizations have ignored his calls for justice and those who represent the Rule of Law, those to whom ordinary people turn in times of extraordinary duress, have also turned their collective back on Aaron James, and allowed his life, liberty and peace of mind to be systematically stripped away.Last week, all Aaron had left was his website, The Aaron James Story whereon he rigorously documented his ordeal. Now the website is gone. What follows is an excerpt from the last email I received from Aaron.www.aaronjamesstory.com was just downed by government this Saturday (google aaronjamesstory.com for sublinks that are still intact, my name removed on FBI.gov in same week as CIA agent Barbara Hartwell calls in to Republic then WTPRN.org broadcasts with myself as guest to discuss the U.S. airline profiling attack upon us and the subsequent kidnapping/ murder attempts. They are erasing our information prior to subsequent attack..."
Audio live upon July 4/08 abduction attempt:http://www.gabcast.com/casts/3452/episodes/1215289263.mp3
Webpage link:http://july6kidnappingattempt.blogspot.com/#July05attack
CIA agent Barbara Hartwell calls in to harass and intimidate:CIA agent Barbara Hartwell called in to intimidate us at 23min:30sec into this mp3 after I mentioned
Her name at 12:30 minutes in this mp3 http://216.240.133.177/archives32/Hertz/2008/10/Hertz_1_100208_110000.mp3
Threats upon my mother and I in Winnipeg Police (Canada) notes regarding FBI U.S. Marshals and ABDUCTION!!
http://www.scribd.com/doc/12393698/Wpg-Police-Notes-Threats-McCains-Murderous-Attempts-Exposed
Precedent set in Winnipeg Police' involvement in prior kidnappings: Monique Turenne was abducted by Winnipeg Police officers Loren Schinkel and Jim Thiessen, placed through the Reid technique and over 8 hours of intense interrogation, forging her signature to false framing for murder and facilitating her abduction to the United States. http://injusticebusters.blogspot.com/2005/01/winnipeg-police-chiefs-right-hand-man.html

A report released by the Manitoba Human Rights Commission accuses the Winnipeg police of being racist and abusive, and says there is profound distrust of police among the city's black and aboriginal communities.

Jerry Woods, chairman of the Human Rights Commission, called the allegations in the report "very disturbing." They range from accounts of starlight tours, where people say they were driven to the city's edge and forced to walk home barefoot, to tales of rape and brutality. [...]http://www.rabble.ca/babble/anti-racism-news-and-initiatives/winnipeg-police-called-racist-and-abusive

WWW.AARONJAMESSTORY.COM JUST REMOVED BY GOVERNMENT TO FACILITATE KIDNAPPING MY MOTHER AND I ARE BEING TARGETED BY THE FALSE WAR ON TERROR AGENDA

The False War on Terror- profiled
To Contact us: 204 296 6497 Aaron
James 204 509 1944 Linda James
E:RESIST1000@USA.COM, E:LINDAJAMES@MTS.NET OUR FAMILY LIVING IN TERROR WITH FREQUENT ATTEMPTS UPON OUR LIVES!!


KIDNAPPING ATTEMPT Oct.10/08 AFTER Government DOWNS OUR SITE OCT.6/08 http://sitedowngovernmentattacksinstealth.blogspot.com/(CLICK!)




***Most recent abduction attempt VIDEO WITNESSED
http://www.youtube.com/watch?v=_sfObgs3GGg ***

FBI Agent Steven Davis Implicates Both Canadian and U.S. Government in the Attempts Upon Our lives:*We are in danger-14 attempts now towards kidnapping/murder

FBI, McCain and administrative affiliates working with the Canadian government are complicit and agent Steven Davis boasted about "his good friendship with U.S. Senator John McCain, while stating "FBI and U.S. Marshals are working *eagerly with the *Canadian government to see about your "rendition" to the United States."

Rendition is ILLEGAL within the context of our plight- We have committed no offense as to warrant any legal actions upon us to this or any other effect, and Winnipeg Police have been making surreptitious attempts (hidden from public knowledge) without warrant or charges against myself or my family, to effect my abduction/ murder in order to silence our protests of the airline's profiling attack upon us now turned attempts upon our lives!
***Corroboration: Roch Tasse International Civil Liberties Monitoring Group Rocht@iclmg.ca ph: 613 241 5298;
Lesley Hughes Canadian Dimension Magazine e:lesleyhughescanada@yahoo.com; Our attorney Adam Masiowski Pinx Law 204 949 1700 ext 3.
Confirmation Minneapolis Police Brutality/Corruption Michelle Gross mgresist@minn.net head of Communities United Against Police Brutality in Minneapolis, and recently attacked at RNC Aug 29/08 at Convergence Center by MN Police.
----- Original Message -----

From: "Aaron James"
To: us@hairyt.com
Cc: lesleyhughescanada@yahoo.com, admas@pinxlaw.com, rocht@iclmg.ca, charles.boylan@gmail.com, lennybloom@gmail.com, timwingate1@gmail.com
Subject: GOVERNMENT FBI MCCAIN THREATS UPON US?!
Date: Fri, 3 Oct 2008 18:11:20 -0500
In my E:resist1000@usa.com in box BELOW I received threats from FBI Agent Steven Davis and INDIRECT THREATS FROM SENATOR JOHN MCCAIN it would strongly appear:
In a message titled "Hi J. Craig -- you're on the radar" FBI agent Steven Davis carbon copies me a threatening message he sent to another individual with whom I am acquainted – it constitutes an implied threat upon my person DIRECTLY since these same agencies cited have made 14 attempts on our lives ongoing and Steven Davis had made threats to that effect upon my person by way of phone.
He had recently threatened 75 FBI and one U.S. Marshal were monitoring both myself and family but also all of my online material. He also stated that they were "eagerly working with U.S. government to see about my "rendition". Police notes recently subpoenad by our attorney reveal threats of U.S. Marshal and FBI threat upon our family and detail of one U.S. marshal Kelly *Meutschler, a name cited to me by Steven Davis by telephone, in capacity of ongoing threats and now 14 attempts upon my mother and I towards abduction/kidnapping from Canada to the U.S., the site of the original attack upon my person. Www.aaronjamesstory.com
**
----- Original Message -----
---
ATLAS CITIES OF COMMERCE
Non-Profit Private Investigators for fair justice since 1992
605 Adams, Moberly, Missouri 65270
(660) 263-5776

http://www.citiesofpeace.com
March 4, 2008
Mr. James Craig
Vancouver, BC, Canada
Hi James,
I offered to assist you in resolving your several conflicts of interest as in Canada. You, in turn, attempt to threaten me and my associates with warnings as a person who thinks he knows anything!
This email is official notice to the US Attorney's Office concerning our telephone conversation just within the past hour. You returned my many attempts to reach you with a call from your cell phone. I know the feds wiretap my phone conversations. I have no problem with it and they have my permission to use it against you.
Please terminate your attacks on people who are true patriots of American and Canadian sovereignty. Your email use is abusive.
I have properly sued various parties within the US Court system and appreciate that right. God Bless America.
Steve Davis
P.S. Please enjoy my various websites against those in Salt Lake who deliberately lie to personal and financial gain. US Congressman Ron Paul wants truth to come out and is willing to attempt the process through proper communication. Your covert and secret operations have been exposed and wish you and Benjamin Fulford the best of luck in the future. Hundreds of thousands of people throughout the world connect with our full disclosure operation.
My Response and Insights on the above:
<1ST SEGMENT REDACTED IS MY ADDRESS TO PROTECT EMAIL COMMENTATOR>… he specifically went out of his way to CC me the email- which I also now note IS ALSO SENT TO JOHN MCCAIN.

*This ties in to verbal threats I received DIRECTLY from Steven Davis to the effect of his close association and friendship with John McCain, while I was still actively in hiding.

He made the comment in the context of threatening that 75FBI and one U.S. marshal Kelly Meutschler are monitoring my website at www.aaronjamesstory.com and eagerly seeking my "rendition" to the U.S. while working with Canadian government and that they wonder how I "keep managing to get away"!

July 5/08 family found 3 police cars and one ghost car in the back lane and when my mother drove by without stopping in her vehicle, one of them
stated ominously "and there she is" frustrated at her presence as witness to the attempt, whereupon they rapidly departed the scene!

As attest to their intentions I have recently noted that 77.7% of the hits on my website are coming from Minneapolis prosecution's office under "Criminal Complaint"- when I did the reverse trace that is the result google gave-right back to the scene of the attack and the FBI laden trial/ jury pool!!
The first of the now 14 kidnapping/murder attempts upon by local Winnipeg police, working in blackops fashion, on behalf of U.S. Minneapolis factions,on Oct 27/07, had Winnipeg Police mocking me in confinement while boasting "Our BOSS says Minneapolis and the U.S. have unfinished business with you...and that maybe we should leave you here long enough for one of them to come up and get you...would you like that?" Since then we learned of Winnipeg Police chief Keith McCaskill's FBI and Minneapolis connections
"Elected President of the FBI National Academy of Associates of North West Chapter" representing "Law enforcement from North Dakota, South Dakota, *Minnesota (where we were attacked) and Manitoba- where he now acts as police chief . reference: http://winnipeg.ca/police/AboutTheService/chiefmessage.stm
His affiliations with FBI and Minneapolis are being illegally exploited in order to effect our kidnapping/ murder. Media continue with censorship by wrote government design and instruction. AND IT SEEMS THAT THE FBI ARE NOT THE ONLY ONES TO BE CONCERNED ABOUT- IT WOULD APPEAR THAT THE THREATENING EMAIL WAS FORWARDED TO AN ALLY OF HIS WITHIN CAPACITY NONE OTHER THAT JOHN MCCAIN CURRENT PRESIDENTIAL CANDIDATE/ WAR MONGER/ INSIPID WAR CRIME KEATING 5 FINANCIAL SCANDAL CRIMINAL!
At this time I have consulted with my family and have instructed that we must be prepared for the most pernicious and treacherous of attacks to come upon us.
We now have irrefutable evidence in capacity video testimony of the Aug31/08 (13th) attempt here: http://www.youtube.com/watch?v=_sfObgs3GGg
It would appear that all of us involved ... must remain extremely cautious.
IMPORTANT LINKS
"> (*now 13 further attacks since this account written)
IMPORTANT LINKS


http://winnipeg.indymedia.org/item.php?10630S Indymedia Site

http://govtabandondocumented.blogspot.com/ 

  EXPOSING GOVERNMENT CORRUPTION/COMPLICITY
The WAYNE MADSEN REPORT-Northwest_Airlines_and_FBI_TARGET_CANADIAN_Man_Caught Up In_Racial_and_Religious_Profiling

Winnipeg Police attempting my abduction are Criminally Charged in Separate yet similar Crimes!
Canadian police Corruption Unprecidented: A growing number across Canada facing charges http://www.rcmpwatch.com/police-officers-across-canada-face-once-rare-perjury-charges/
Video Kidnapping Attempts
http://www.woopie.jp/video/watch/2c992e83ebb79599?kw=Murder&page=6
http://www.youtube.com/watch?v=_sfObgs3GGg
Focus on the OCT 27 HOME RAID / ABDUCTION: by Criminally Charged Winnipeg Police
CrossBorderCollusion:FBI/WpgPoliceChief/Minneapolis/MinJusticeDavidChomiak

CBC Freelance Journalist Lesley Hughes' Canadian Dimension Magazine Report

Michelle Gross MN Communities United Against Police Brutality, Corroborates Our Ordeal
http://imchennepincountyjudiciarycorruption.blogspot.com/ Targeting minorities victims of police brutality and the poor.

SAME POLICE involved in second attack upon us in Canada NOW CHARGED AND EXPOSED IN INDEPENDENT INVESTIGATION!
Government:
Composite Site Exposing Government and Advocacy Abandonment
Canadian Consulate Ignores Our Plight
ACLU Refuses To Assist My Mother and I
Canadian Human Rights Refusal - Negligence in Abandoning Our Family Without Even Reading About our Case
"Criminal complaint filed against Canadian "Human Rights" Commission: Many CHRC employees Stealing nearby WiFi signals in order to spy on Canadians and to post racist messages on websites under others' identities
GOV'T INTERACTION JUST PRIOR TO&AFTER 2ND ATTACK: Government ...

Minneapolis Police and Winnipeg Police (police from our home city) COLLECTIVELY EXPOSED CRIMINAL & CORRUPT AND IN CROSS BORDER COLLUSION...

****Attacked AGAIN Oct 27/07-abducted at gun point at home!- by 8 CANADIAN POLICE ACTING IN COLLUSION WITH AND ON BEHALF OF U.S. Minneapolis Police!
A CLOSER LOOK AT THE ATTEMPT http://oct27abductionwpgpolice.blogspot.com/
Profiling Evidence
POLICE KILL WOMAN AT PHOENIX AIRPORT: POLICE KILL WOMAN AT PHOENIX ...
VANCOUVER AIRPORT POLICE RCMP KILL 40YR OLD POLISH: VANCOUVER ...
GOVERNMENT-SABOTAGED REGISTERED LEGAL CLINIC MAIL
MP3'S INTERVIEWS
KBOO RADIO REPORTS ON MY WEBSITE BEING TARGETED BY GOVERNMENT AND GOING DOWN AND KIDNAPPING CRISIS SITUATION:
http://kboo.fm/node/9785
http://mp3.wtprn.com/Madsen/0710/20071002_Tue_Madsen1.mp3
http://mp3.wtprn.com/Madsen/0710/20071002_Tue_Madsen2.mp3
http://www.wakeupwithcoop.org/%5CDiscussion%5C07-4-4-Discussion.mp3 
http://arc.republicbroadcasting.org/Herzog/07/12/Herzog_122807_140000.MP3 
http://arc.republicbroadcasting.org/Herzog/07/12/Herzog_122807_150000.MP3 
http://arc.republicbroadcasting.org/Stadtmiller/07/12/Stadtmiller_123107_160000.MP3
http://arc.republicbroadcasting.org/Stadtmiller/07/12/Stadtmiller_123107_170000.MP3
http://www.canadiandimension.com/alert/broadcasts/alert_%2805_04_07%29.mp3 (Lesley Hughes mp3)
Video:
KIDNAPPING WITNESS TESTIMONY here:http://www.youtube.com/watch?v=_sfObgs3GGg
kkk Based Minneapolis Police: http://www.youtube.com/watch?v=mczyEUBJiBA

Northwest Airlines Profiling Attack Part 1 of 2 http://www.youtube.com/watch?v=9gSw-NlUfwE

Northwest Airlines Profiling Attack Part 2 of 2
http://www.youtube.com/watch?v=0DC8R3TbnI8